Compare Lumo Energy Plans
Lumo Energy is owned by Snowy Hydro Ltd, one of Australia's largest and oldest renewable energy generators. It offers a range of electricity and gas plans across Victoria and South Australia, with 24/7 self-service support for customers.
If you're considering signing up for Lumo Energy plans, contact us at Compare Energy and we'll help you find the right plan and get you connected.
About Lumo Energy
Lumo Energy operates in VIC and SA only. Despite this, Lumo keeps its prices affordable enough to be up to 23% less than the reference price.
Customers across South Australia also have access to Lumo Rewards, which involves getting discounts and vouchers from a range of retailers just by being a customer.
While Lumo Energy rates are encouragingly low, this does come at a price. Lumo Energy isn't the best choice for solar customers as its feed-in tariffs are lower than others and it doesn't offer great GreenPower options.
Lumo Energy also doesn't share the same renewable credentials as its owner, Snowy Hydro.
For all Lumo Energy Power and Gas plans call
1300 613 951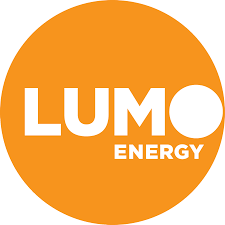 See how Lumo Energy stacks up against other providers
Pros:


Cons:


✅Refer a friend program offering $100 gift cards to you and your friend if they sign up
✅Fixed energy rates for 12 months (VIC customers)
✅100% Australian owned
✅Rewards program for SA customers
✅Offers variable AND fixed rate plans
✅Certified carbon-neutral company
❌Customers can only add a 10% GreenPower option to their plan
❌Low solar feed-in tariffs
❌No mobile app to track usage
❌Only offers plans to two states
Lumo Energy electricity and gas plans
If you're thinking about switching to Lumo Energy plans, take a look at the table below to check whether it offers the plan you need in your state:
| | | |
| --- | --- | --- |
| State | Energy | Gas |
| NSW | ❌ | ❌ |
| VIC | ✅ | ✅ |
| QLD | ❌ | ❌ |
| SA | ✅ | ✅ |
| ACT | ❌ | ❌ |
| WA | ❌ | ❌ |
| TAS | ❌ | ❌ |
Lumo Energy only caters to two states but it does offer the option of bundling both gas and electricity into one plan. This is convenient for customers to pay their utilities in one place.
Lumo Energy plans are variable, spanning both electricity and gas, and without further discounts. SA customers will receive access to Lumo Rewards but its plan offerings differ depending on your location.
Lumo Energy electricity plans
There are a variety of plans available for electricity-only customers across both SA and VIC. These plans have no discounts included, but SA customers still get their Lumo Rewards.
Lumo Energy electricity plans can be bundled with gas plans to keep paying bills more convenient. The electricity-only plans include:
Value (VIC only). Customers in VIC can fix their Lumo Energy rates until 31st January 2025. There are no exit fees and standard moves are free, including connections, disconnections and meter readings.
Basic (SA only). This is the main electricity plan in South Australia, with no contract terms or exit fees. Lumo Energy customers in SA can get access to the Lumo Rewards program on this plan.
Plus (VIC & SA). Customers in SA can enjoy $25 Bonus Lumo Rewards Credits on signup for electricity plans with $50 Lumo Rewards Credits when bills are paid on time. VIC customers are eligible for free connections and disconnections when they move house.
Standing Offer (VIC only). This plan gives Victorian customers the chance to use the Victorian Default Offer (VDO) for electricity, with free standard moves.
Lumo Energy gas plans
Lumo Energy also offers natural gas-only plans to its customers in SA and VIC that closely mirror its electricity-only offers. These plans include:
Value (VIC only). Lumo Value allows customers to fix their gas rates until 31st January 2025, with free standard gas moves including connection and disconnections.
Basic (SA only). This is the basic gas deal available in South Australia. No discounts are available but customers gain access to Lumo Rewards. There are no contract terms or exit fees.
Plus (VIC and SA). South Australia customers have access to Lumo Rewards on this plan and customers across Victoria gain free standard moves for gas. There are no exit fees with quarterly billing options.
Standing Offer (VIC only). With this plan, Victorian customers gain Lumo's Standing Offer for gas and free standard moves.
Customers are free to bundle their plans together, though there won't be discounts for those who do.
Does Lumo Energy offer solar plans?
Unlike most energy companies in Australia, Lumo Energy is not currently offering dedicated solar plans, nor is it offering solar panel packages for new customers.
Lumo Energy does, however, offer a feed-in tariff for any exported solar energy products.
Lumo Energy Rewards
Exclusively available to SA customers, Lumo Energy offers a Rewards program to members that gives access to significant brand discounts across Australia. Retailers include names like JB Hi-Fi, Coles and Flight Centre.
Lumo Energy electricity customers will be awarded $25 Bonus Lumo Rewards Credits on sign up, and Lumo Energy will pay $50 in Bonus Lumo Rewards Credits for every bill that is paid on time. To gain access to Lumo Energy Rewards, SA customers should:
Register with MyAccount
Click 'Start Shopping' when you log in
Start making savings when they shop
Customers should note that Rewards Credits only last 12 months before they expire.
Billing information
Lumo Energy offers customers the chance to make payments easily, waiving debit and credit card fees.
Ways to pay include:
Direct debit
BPAY
Automated phone service on 1300 115 866
EvenPay
Cheque
In-person at Australia Post
Centrepay
Lumo Energy offers government concessions to eligible customers, and those who are splitting bills can use HelpPay to make it easier to make payments.
Switching to Lumo Energy
Switching to Lumo Energy from your current provider is a breeze with Compare Energy. Just give us a call at 1300 613 951, and our experts will help you explore Lumo Energy options step by step.
We'll walk you through signing up and address any questions you have about Lumo Energy plans. Switching energy providers is straightforward with Compare Energy, and we'll help you start saving on your Lumo Energy plans in no time.
Compare Lumo Energy plans with Compare Energy
At Compare Energy, we're here to help you find the best Lumo Energy plan. We've made comparing energy providers easy and hassle-free, so you can make the right choice with confidence.
Just type your postcode into our search tool, and we'll display the top Lumo Energy plans in your location. We focus on affordability while maintaining the quality you want.
Contact Compare Energy today, and we'll assist you every step of the way.
Lumo Energy FAQs
Is Lumo Energy Australia-wide?
No, Lumo Energy only serves VIC and SA
What is Lumo Energy's Refer a Friend program?
If you recommend Lumo Energy and your friend signs up to one of the Lumo Energy plans, you both receive a gift card to spend at leading retailers.
Are there GreenPower options with Lumo Energy?
Yes, but Lumo Energy only offers up to 10% GreenPower offsets.
Is Lumo Energy Australian owned?
Yes, it's a retail subsidy of Snowy Hydro and a sister company of Red Energy.
Start comparing energy plans now!
Answer a few simple questions and we'll search hundreds of plans from some of Australia's leading providers.
Start by entering your postcode or suburb below.